The Earth Speaks
Ephemeral messages in coloured powders leave a nourishing impression on the landscape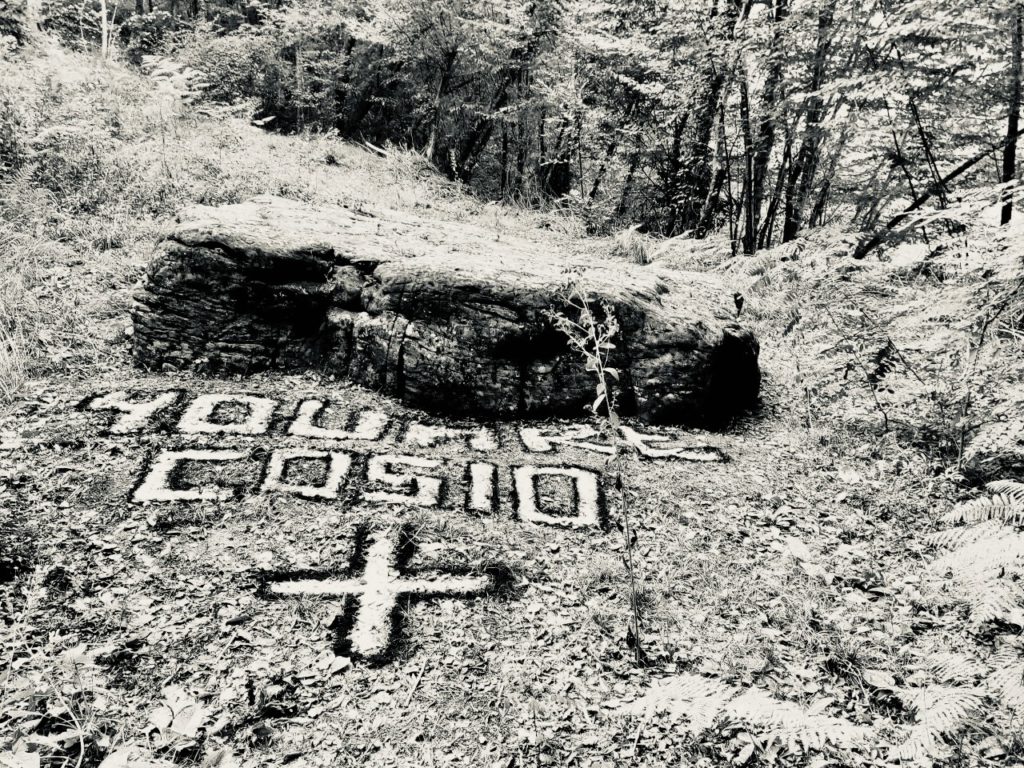 Roberto: Cosio and Socio are twin realities. The first is disappearing, over the mountains. The second is rising below, underground. Socio's inhabitants emerge from the ground to meet the Cosiesi, leaving traces of their passage, on their journey to be together.
Jamie: I came to Trasformatorio with the idea of Socio , Cosio's lost twin underground village. After thousands of years, the people of Socio are digging upwards through the earth, to be together with Cosio again.
Roberto transformed their imagined journey into something physical, something real. He turned the Socian's words into earth and stone. He wrote their story into the ground.
Roberto: An element of the Sociesi's journey are the handprints, created by Giulia Piana, marking the underground people's escape from their skies of rock, into the stone streets of Cosio – and into the light.
Jamie: In Absentia I had considered the idea of somehow actually recreating the arrival of the Sociesi using real people. In the end, my work In Presentia went a different way. But working with Roberto, with La Terra Parla (The Earth Speaks), we gave the concept a different kind of reality and solidity.
Roberto: Our work is a symbolic 'deal' between Cosio and Socio. They write around the Crux stone, a natural monument in Cosio. Historically this place was used to sign contracts, and make agreements – by placing a cross on it. The work also speaks about the artists of Trasformatorio and the people of Cosio coming together. The building of a relationship, in presentia and in futura.
Jamie: I gave Roberto a rough sketch of how the Sociesi might write their message.
Because they live in the rock, underground, perhaps the angles of their letters are hard and angular. I had no idea about the existence or significance of the Crux stone. Roberto's idea to use this traditional place of meeting and connecting to bring the two sentences together was inspired!
Roberto: Jamie's sketch was inspiring for this work! I was looking for the appropriate shape to make an aesthetic transformation of the landscape of the territory with my colours, and his letters were the right input. My coloured powders are hand-crafted according to principles of circular economy, they nourish the ground without polluting. I used them in this action to mix memory and storytelling in a way that connected the inhabitants of Socio and Cosio and their physical and human territories. The temporality of the work draws attention to the urgency of those who experience it to create future memory. My goal is to inspire new aesthetic perceptions that detach us from art like merchandise and decoration, to practice it instead in the form of a relationship.
– Roberto De Luca & Jamie D. Huxley with Giulia Piana