Vento/Wind
Al Castello, ieri.
Le giornate si susseguono a ritmo serrato. Il Castello di Montalbano e' il campo di prova scelto, a meta' tra il sito naturale e l'area archeologica. Ha delle caratteristiche particolari e estremamente interessanti. Ieri l'attivita' si e' svolta per lo piu' qui al castello.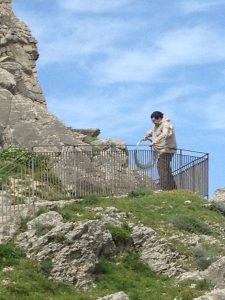 Inizio giornata due ore abbondanti di lavoro con Maria Eugenia. Poi continua il lavoro di allestimento del progetto di ascolto e radio antenna di Gabriele e Aldo, che hanno passato la giornata nel vento, impassibili e metodici a passare fili metallici secondo strane leggi radio-osservative.
wind-in-castle (.mp3)
N.B. Recored with Zoom H4, 50 cm off a closed window in the main castle hall. I actually had in mind to order viagra do a proper recording and this was just a experiment of the setup, then had no time to do a proper walk through. Hopefully some similar conditions will repeat…
Agli angoli altri partecipanti impegnati nel dipingere, pensanti, comunicanti, di corsa e a piedi. Difficile annotare tutto, pensare a tutto, mentre rapido evolve in un rapido flusso di informazione. Prendo note per lo piu' con la carta.
A sera inoltrata, quasi spazzati via dal vento che fa volare le tegole, ci si ritrova nel Cinema a visionare l'imponente opera di Alejandro Jodorowski "Santa Sangre". Uscendo dal teatro intorno alle 23 il silenzio ci accoglie, il vento e' calato. Nella calma irreale di una notte di quadratura si scende verso le casette, tiro fuori le carte, qualcuno mi segue nella casetta e inizio una lettura di tarocchi che va avanti sino alle 2:00.
Gran giornata…