Trasformatorio 2017
Trasformatorio
Third international lab for experimental and site specific arts
April 21st to May 1st 2017
Scaletta Zanclea (ME)
Together with the City of Scaletta Zanclea, in the person of the Assessora Daniela Di Ciuccio and the Cultural Association Siddarte from Milazzo, co-producing, we are proud to announce the third Trasformatorio in Sicily.
What it is?
Trasformatorio is an international laboratory focusing on practices related to site-specific performance. It's objective is to integrate the practice of the Hacklab with the research over performative arts and sustainability. To do so trasformatorio rely on a integrated approach experimenting with artistic methodologies in a co-design setting, crafted according to a everchanging situation. Since 2016 trasformatorio is part of the experimental research projects hosted by dyne.org, a international foundation and think (and do) tank based in Amsterdam.
Trasformatorio intends to develop research, production and distribution of performances with innovative technical and artistic contents, envisioning new solutions to integrate sustainable technology in drama and through which viewers are confronted with themselves and the landscape. Shows and performances that can be prepared and delivered in any context, even off the theater and electricity grids. Shows and performances integrate a practice aimed to inclusivity, respecting the environment and human elements that interact with them.
Trasformatorio is reserved to professionals, artists, actors, musicians, designers, architects, set designers, video/film makers, photographers, students of applied arts, theater studies and fine arts. An equal number of spaces are reserved to Sicilian Artists.
The laboratory is held within the territory that explores, in harmony with the human population, the natural ones and the architectonics that hosts him. This edition will be held in Scaletta Zanclea, in conjunction with the local administration that houses us, using the "borgo" and the Castle tower "Rufo Ruffo".
Why is relevant? Because the languages and topics of performance, when connected at the same time with technological development and the essence human and natural landscape teaches us important lessons about the future we want.
2017 Investigation theme: street play
What is now and is going to be the equivalent of street art? What are the allowed uses of common space, what are the unwritten rules for social engagement and communication? Why in place of a new babylon we have got a fence? Are we all individuals also in the public sphere? What can a hacker learn in this situation from a street artist, and viceversa?
Scope of the lab is to transform what it finds…
As in T#0 we will devote our time and effort in gathering information and contact with our new location and represent it into our cathegories to see what kind of inspiration will take form from living in the ancient town of scaletta and in contact with the inhabitants and their natural and artificial environment.
Designing, implementing and disseminating performances that are inclusive and sustainable, through the design of new entities, the revaluation of existing forms, the devising of situations and ways to live performance, in harmony with the natural and human environment that hosts it. So it will be.
The Location
Scaletta Zanclea (38°02′41″N 15°27′46″E) is a small municipality in the Province of Messina in the Italian region Sicily  about 15 kilometres (9 mi) southwest of Messina. Can be reached easily from Catania International airport with the train. The comune suffered heavily in the mudslides which devastated the area in 2009.[2] 
The splendid site, close to the sea of the Messina's Strait and sourrounded by the Nebrodi Mountains is rich of historically and etnographic connections that will inspire the artists in their transformations: as an example the medieval feminist story of Macalda di Zanclea, the game of chess, the story of Morgana the Fairy, myth and landscape as you can find hinted into the history of Macalda di Zanclea…
See the shared map here: MAP OF SCALETTA
Open Knowledge
The research performed by the Trasformatorio will be documented online and distributed on open licences.
Trasformatorio favours open hardware and software development, freedom of thought and open circulation of ideas. Eventual collaboration works born in Trasformatorio are only required to keep this open access policy and quote trasformatorio in their communication.
Workshops and laboratories:
Application and development of personal skills on site-specific performance.
Trasformatorio ethics is that participants share and co-develop their skills into new ones. So all participants are therefore considered co-producers of the trasformatorio.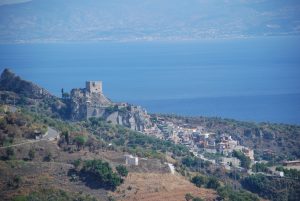 This is a research that has to be conducted within an ethic of exchange, responding to the specific environment (= people, history, space, nature) of Scaletta Zanclea.
Technical research on sustainability; joint exploration of tools and techniques that can be used for site-specific media-rich performances and development of found material into performative one within experiemntal dramaturgical lines are the scope of the lab. We aim to help to create techniques to allow a theatrical transformation on site and we are a guest of the community to wich we want to give back.
Research presentations, discussions, speeches, performances and installations can all be the means of dialogue: to create space for this is the scope of this first visit.
The practitioners' explorations were presented at the end different audiences, in multiple ways, according to the content, character and state of development of ideas and performance material, without any obligation for the participants and will be documented on the site and all possible ways.
Establishing the basics, gathering food and all other material necessities:
On the locations where Trasformatorio was working and living. This very basic practical activity was considered and worked out as one of the means of 'mapping' the place. It worked as a key aspect for integrating with the local community and as a simple social glue between participants.
How to apply
Fill in and send your application before 1st March 2017 at fredd@dyne.org.
There are 15 places available.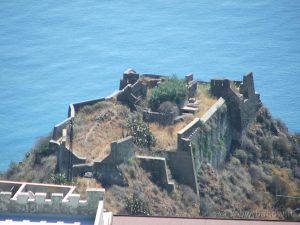 What do we offer

All activities and workshops on site will be free of charge for the selected participants. The city will offer free lodging and food, all the rest will be at your own expenses. Trasformatorio will issue letters of invitation for the selected participants willing to apply for travel grants. The micro economy of the trasformatorio requires involvement, elasticity and patience. Is an experiment, a precious one in itself.
Partners
​​​​​​​Comune di Scaletta Zanclea Assessora Daniela Di Ciuccio
Associazione Culturale Siddharte (Milazzo) http://www.siddharte.com
Sementi Indipendenti – http://www.sementiindipendenti.it
​​​​​​​Museo dell'Informatica Funzionante – Palazzolo Acreide
WISH – BIAS 2018: Biennale di Arte Sacra e delle Religioni dell'Umanita' (Palermo)
Cairotronica :Cairo Electronic and media art symposium

Trasformatorio would never be possible without humans. To start with, thanks to  Giuseppe Morgana, Emanuela Ravida', Manuela Trovato, Gabriele Asbesto Molesto Zaverio, Mikko Lajola, Guido Gaudioso… Many more will follow.
In italian: RADIO INTERVIEW on "Radio Start me Up" by Fabio Bruno (in Italian)
Un laboratorio artistico a cielo aperto: Trasformatorio sta arrivando!