Ex Nihilo – RE in the Nederlands
About the first part of the residency of RE in the Nederlands
Amsterdam 17-30 September
RE arrived in time at Shipol Airport with a flight from Catania. She is a blonde woman, she is born sicilian and is bilingual sicilian-german from her mother side. She has acedemy of arts background, a direct way of dealing with all kind of people and a very strong will. She has developed her talent in the years after her diploma with stubborn focus and hard will. She is ready for The Nederland and she looks around.
When I finally got, after many years, the chance of organising residencies in Amsterdam I had no doubt that the first one had to be her.
We know each other since around 2013. We shared together the experience of the first trasformatorio lab and with her companion Giuseppe Morgana they have been the backbone of the last two labs made in sicily and one of the reasons of their success.
But I wanted to have RE here, as first of we hope many artists we can present and introduce properly to the dutch public,for artistic reasons.
RE does not work from a concept. She has many sources of inspiration in wich she dives with in depth fascination but this is not the core of her effectiveness. She works the concept through, like a path to a place were something has to happen, like a folk story, like a misguiding suggestion from a crook. Her thought becomes first action and matter and color, at last, like in a magic mirror finds a name.
In the years I have learned that her art has forms, a necessity, is grounded into coherence and consistency but no words are necessary before the action to realise it. RE channels impressions through her rich palette of media and asks the world to say the last word on the result. Her titles are then a good closing act for the effort, and come from her preliminary fascinations, but as in a ritual they are results. Touches of a bell or of a gong, to dispell the force she kept a bay. Yet there is nothing automatic in her doing.
Often her pieces are left to the environment while in the process of making. She did a bit the same in my studio last week, using rain and dust and the drying of the layers braking up. Found substances, that are inclobated in the colors are often incompatible chemically, they cross with unpredictable effects and sometimes I find myself surprised that she knows how to fix them, in unexpected moments, addig one substance or another to the mix. Images gets imagined then, growing layer by layer, by the gesture and feedback with her mind and the atmosphere in the room: RE acting in light trance hanging over the piece and images forming and disappearing in the process.
She works with a fascination, an idea, often for months. And then mixes incompatible chemicals and strange substances directly on the support, touching it, with long brushes or the fingers, using all kind of found material, plants, lacks, soap, glue. The piece "emerges" from her actions like a small wonder.
I saw her paintin in her big house atelier in Milazzo, in front of the Eolian island in the province of Messina with similar intensity and cromatic effectiveness.
It has been in this days a great pleasure to work out in my studio near the Wateringshaans, taken by philosophical thoughts, encounters, found objects and my apparently casual looks in the evening when I would pass to see how she was doing.
Avidly, incessantly, she transformed what she found, in the way we have learned together to do and produced 3 very good pieces as a preparation, a worm up, for the rest of the stay, in Groningen, organised by Hans "Hansko" Visser and the Ceda and Olgica Foundation.
Presentation of her woork in Groningen is scheduled for Sunday 13th of October, from 15.00 onwards, with live/life-boat-instant-composed-music by carefully selected improvisers.
As far as presenting the whole of the work we will try to get a good spot, so all interested people are invited to come.
As Hansko says, "we will have bread and wine"
So I should not forget to give you all a bit of links and context here they are:
New pieces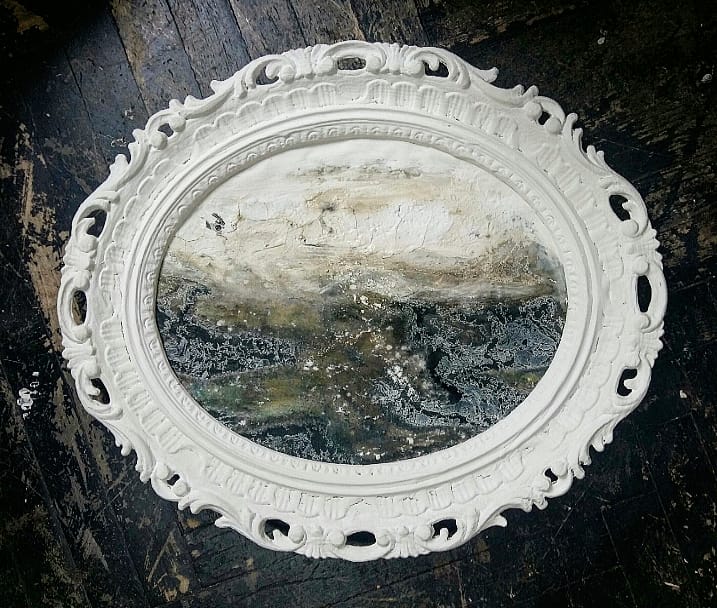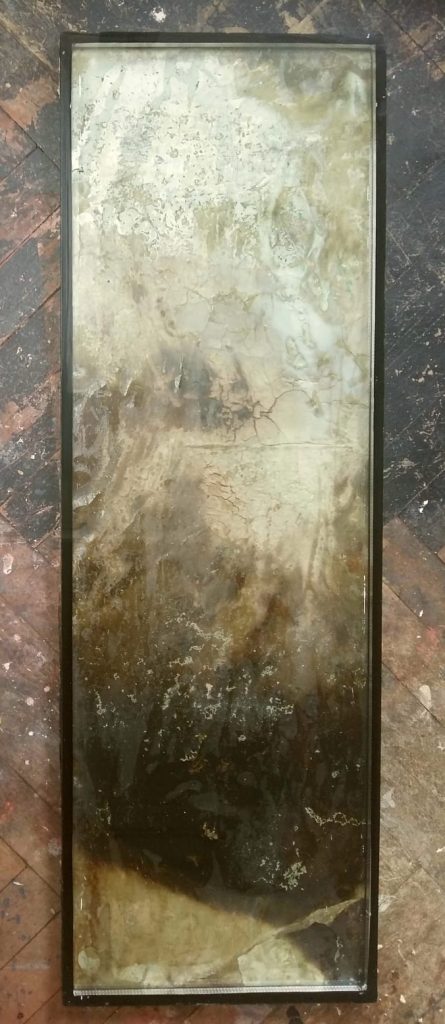 She worked on a big installation, titled "Numero Cinque". Is a Mixed media assemblage of 9 found drawers, with the 9 pieces interconnected in precise schematics, (about 220×311, the square will hang in diagonal. The ispiration comes from the air of the Marci Panis I suppose…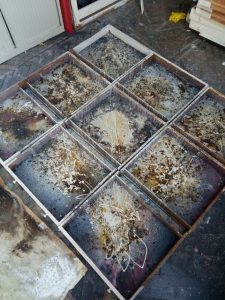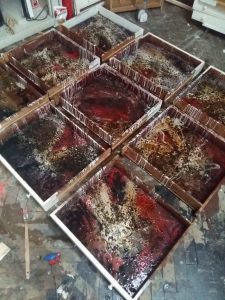 Trasformatorio Residencies are an effort to make artists that participated in Trasformatorio site specific lab, in particular those coming from south mediterranean areas to come to present their work in the Nederland. We think the best way to introduce them is to ask the artists to make new work using our studios as prime matter.
We are activelly looking for partnerships.
Contact Federico (fredd@dyne.org) if you like to participate or help.